---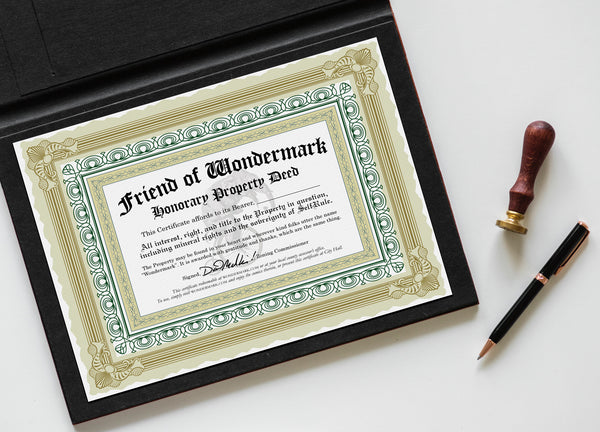 Just want to show your appreciation for Wondermark without any pesky physical merchandise getting in the way?
Need something to spruce up your walls now that all your "official" certificates got "confiscated" for "misconduct"?
A purchase of this item (at any amount) gets you this classy-as-heck FRIEND OF WONDERMARK certificate, which also awards you mineral rights to the kindness in your own heart.
Fill in your own name (or the name of a loved one) and show off how nice you are!
You can download the certificate and print it out—or just do nothing and rest easy, knowing that your financial contribution makes a huge difference in my life.
Voluntary contributions help me devote time toward making comics for you and provide actual real money which is necessary to feed my small but hungry kid.
Contributions also go toward paying the rent on my studio; obtaining ever-more weird Victorian periodicals; upgrading computer equipment; general business compliance costs such as ISBN and trademark registration renewals; web server costs—all sorts of business- and art-related expenses!
You can adjust the quantities of this item to any precise amount that you care to donate. Thank you for your support of any amount!
(Pictured leather folder is not included—this item is a DIGITAL DOWNLOAD. You will get an email with your download link after checkout.)