---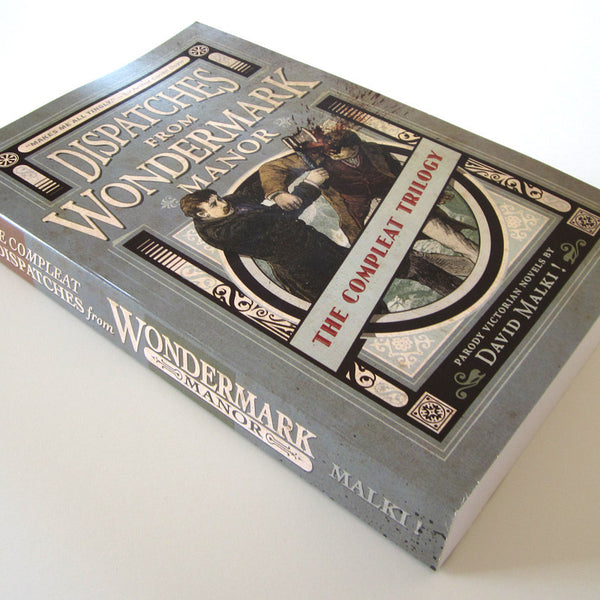 Sale
Softcover; 5.5″ × 8.5″, 502 pages • Digital versions also available (Off-site link)
I entertained a man-of-town at the mansion over the week-end. He was a rather shabby sort, a fellow one might see rooting about the waste-bins on Avenue T, that part of the wharf where the crab-smashers raise their mighty mallets and bring them down on crustaceans with nary a care for who's walking besides or who might be gifted with the (rather prodigious) by-splatter of oils and shell-bits and general meaty leavings that cling to every nearby surface in a quite inextricable manner.

My guest, a certain Mr. N_____, tried to keep his left side angled away from me throughout the evening, afraid, perhaps, that the tell-tale crabbings that stained his trousers would reveal him as a member of the loathsome cobblestone set, the type too proud to ask for proper crab-scraps from the smashers (a generally amenable class) yet too poor to buy even an eighth-ounce of rat-juice from the bellman's cart with the streamers, where the rats from the previous night's trappings are pressed and juiced with great fanfare at sunrise, the breeze plucking at the gay streamers and lofting the bellman's ancient shanty from rooftop to rooftop in a great, old hallmark of morning…
Victorian adventure
 – an era full of top-hatted intrigue, dirigibles galore, all-too-demure sensuality and completely unironic classism. Altogether too
normal.
Now there's an antidote:
Dispatches from Wondermark Manor,
a rollicking, absurd, completely ridiculous humor novel from the author of the celebrated comic strip Wondermark. Taking the tropes of Conan Doyle-style adventure fiction and ramping them way over the top, this tale brings together:
Ghosts
Airships
High society intrigue
Old men in salt barrels
Horses that cannot fly
Frightful moustaches aplenty
Cheese handling as an artform
General bad decisions, and
Casual mass murder
All in a stunningly-designed package evocative of the grandest pulp style.
Praised by many for its strangeness and wonder, and previously only available in long out-of-print chapbooks, Dispatches from Wondermark Manor is now offered for the very first time in a complete omnibus edition, including all three volumes of the novels plus a separate prologue (first printed in Beards of our Forefathers) as well as three brand-new hand-drawn maps illustrating the locales in the book.
Buy with confidence! This edition is guaranteed at least 48% opium-free by law.