THE WONDERMARK 2014 CALENDAR
AKA 
Roll-A-Sketch Yearbook: 2014 Graduating Class 
A Record; A Reminiscence; A Catalog; A Chronicle; An Indictment; A Regret; A Cautionary Tale For All Time of The Grand Experiment & Mistake.
This progressive-style desk calendar features 29 separate biweekly cards for a hook-based continuous flow date dispersal system. It contains all the regular U.S. & Canadian holidays (including the new ones celebrated by Wondermark adherents worldwide).
This year, each card features an illustration of a Roll-a-Sketch creature (a composite monster created by rolling a series of dice), as well as some useful biographical information about the creature itself. As in last year's edition, the images have all been drawn by me and watercolored by Max Loren Shepard. 
To learn more about the format and design of this calendar, see these posts from last year: Part 1 / Part 2 / Part 3
---
The 2013 calendar will be produced in a strictly limited edition. Each is signed and numbered by both me and Max.
This calendar requires a backing board with hooks. If you have one from last year, you can use it again; otherwise, you can get one included with your order. This year's backing boards have an integrated easel design, so no separate easel is required. The backing boards are individually laser-cut by Jason Lioi of Dapper Devil. 
In addition, various bundle options are available:
• Calendar, Cards Only gets you just the cards, for use with a backing board from last year.
• Calendar w/Backboard gets you the cards plus the backing board with integrated easel. If you didn't get a calendar last year, this is the option you need.
• Calendar, Cards Only + Horrid Little Stories Book gets you just the cards (no backboard) plus a signed copy of Horrid Little Stories, the new book collecting all the calendar content from years 2008-2012 of the Wondermark Calendar — sixty verses and illustrations in all. This book is brand-new and not available anywhere else.
• Calendar w/Backboard + Book gets you the calendar cards, the backboard, and the signed book.
• ART COLLECTOR BUNDLE includes the calendar cards, the backboard, a signed copy of the book, AND one of the 29 original paintings that made up last year's Gaxian Almanac 2013 calendar. You will get the original art, matted next to an acetate overlay displaying that card's text from the calendar, ready to fit an 8x10" frame. The mat will be signed by me and Max. As only 29 pieces of art were created for the Gaxian Almanac, this pack is limited to only 29 units. Choice of art is random.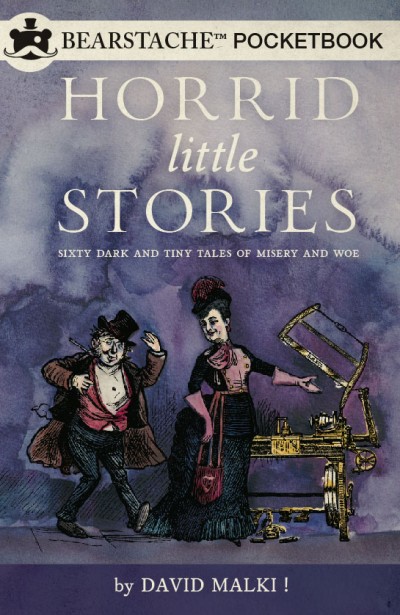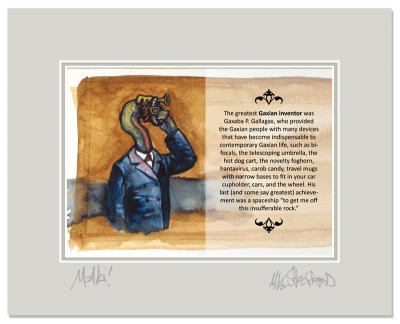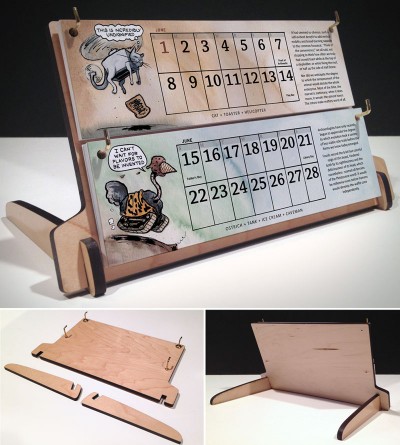 ---
See also: Greeting cards